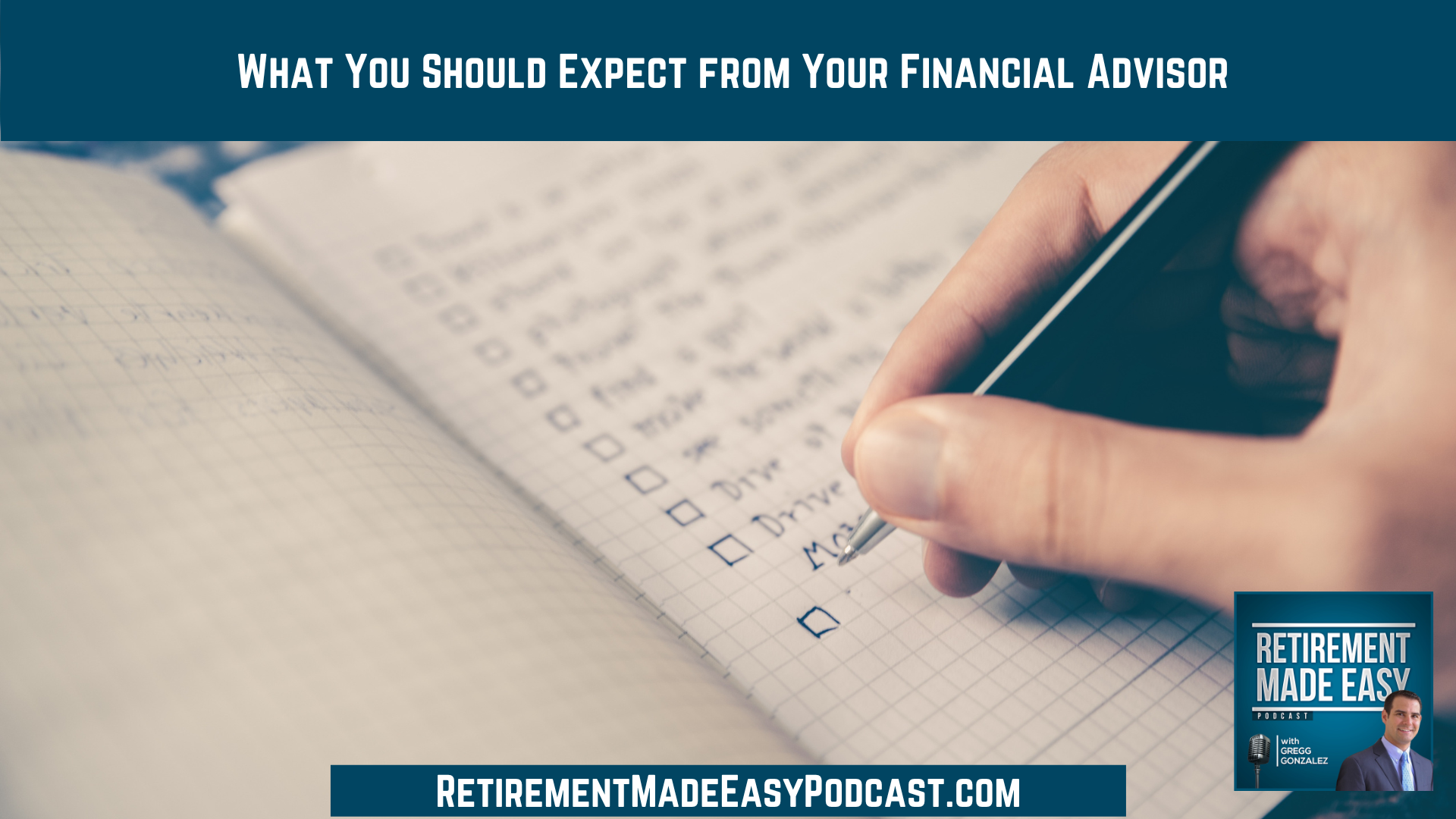 What should you expect from your financial advisor? Based on the questions I'm getting—and the conversations I'm having—many of you don't know the answer to this question. And some of you have been working with the same financial advisor for 10–20 years! In this episode of the Retirement Made Easy podcast, I want to encourage you to expect more from your financial advisor: more planning, more advice, and more service. Listen to learn what you are paying for and SHOULD be getting from your financial advisor.
You will want to hear this episode if you are interested in…
[3:36] Check out the FREE Resources at RetirementMadeEasyPodcast.com
[7:23] Thank you to these amazing listeners: Phil & Nancy!
[7:52] Your financial advisor should be able to help you
[10:09] It's time to get serious about your retirement action plan
[13:19] Ask for and expect more from your financial advisor
What should you expect from your financial advisor?
Many listeners are saying they're working with a financial advisor—but they're still asking me questions about social security. They're still asking me questions about pensions, estate planning, tax planning, and so much more. I'm shocked how many people work with advisors who don't know their stuff. Your financial advisor SHOULD be able to answer this for you! 
You are paying your financial advisor a lot of money to help you with financial decisions. Get your money's worth! I answer dozens and dozens of questions and am happy to do so but I'm shocked by how many people reach out to me because their advisor isn't answering their questions. So where should you start?
Set up a meeting with your financial advisor
When I get a phone call, it usually goes something like this: "I'm thinking about retiring. I don't know if I'm on track. I've got IRAs, Roth IRAs, and a 401k." What's the first thing I ask? Do you have a retirement plan? 
If you want to retire at 65 and you're 60, you have 5 years to make it work. Your plan will tell you exactly what you need to do to retire on time and what you'll have to live on. The person calling me often says, "Well…we don't have a retirement plan. We're just now starting to get serious about retirement."
If you already have a financial advisor, call them and say, "I want a retirement plan (or need to update my plan)." Make sure you cover these important questions:
When can I retire?
Am I saving enough to retire on time?
Should I start to save more?
With the market being down, it's a great opportunity to update your retirement plan to see if you're still on course. You're not there to talk about investments, President Biden, or gas prices. You need to have productive meetings with your financial advisor.
How does your plan need to be revised or updated? If you're just getting started, maybe it needs to be built. Talk about building a retirement action plan that will map the journey from where you are to where you want to be: comfortably retired.
Ask for more from your financial advisor
Many financial advisors specialize in different areas. Some just specialize in 401k plans. Others, like myself, specialize in retirement planning (for myself, I work with people 50+). I'm not the person you call about investing in gold & silver or real estate. Others specialize in life insurance and annuities.
Just like you see specialist doctors for various ailments, you want to make sure you're meeting with the right kind of financial advisor. If your financial advisor doesn't offer retirement plans, find one who specializes in retirement planning.
Get your money's worth because you're paying them—whether you realize it or not. You deserve professional advice. They're there to plan for you. They're there to build a bulletproof retirement action plan.
If you need help getting started, you can find my three steps to retirement at RetirementMadeEasyPodcast.com in the Resources:
The Blueprint to the Dream Retirement
The budgeting tool
The Retirement Action Plan
Resources & People Mentioned
Connect With Gregg Gonzalez
Subscribe to Retirement Made Easy