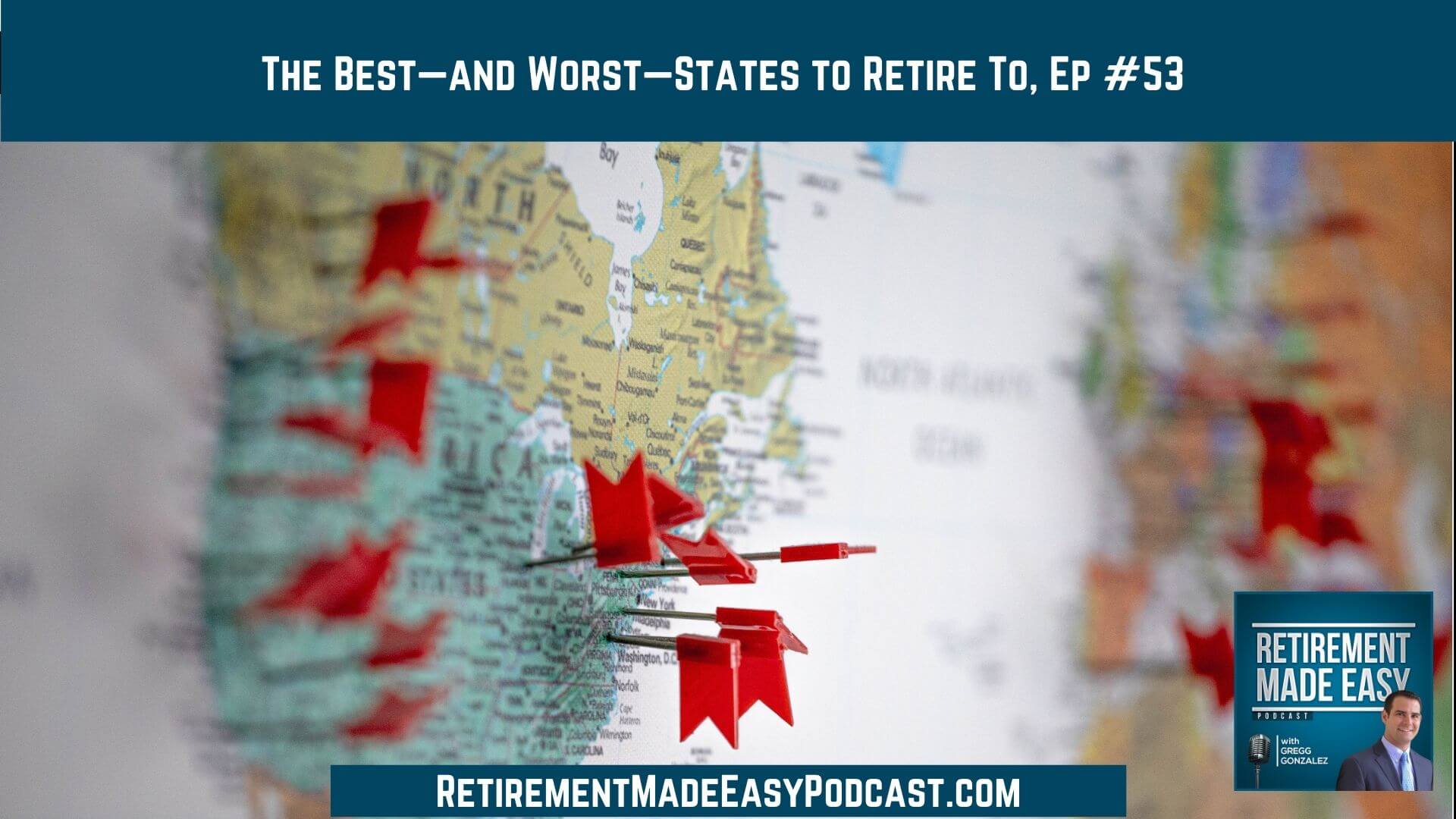 Money is subjective, right? $1 million saved for retirement may not seem like much to one person. To someone else, it seems like a fortune. Whatever it is that you do have saved for retirement, you likely saved and invested for years. The decisions you make with what you have are crucial for your future success. You have to make the most with what you have. In some cases, that may mean retiring in a different state. What are the best states to retire to? What are the worst states to retire to? Find out in this episode of Retirement Made Easy!
You will want to hear this episode if you are interested in…
[3:30] The factors taken into account
[6:05] The 4 worst states to retire to
[11:13] The best states to retire to
The factors considered in the debate
A lot of studies have been done on the best states to retire to. Kiplinger, Bankrate, AARP, and Retirement Living have all done studies on this topic. When you're looking at these studies, it can seem somewhat subjective. What factors were considered?
Taxes (property, state, sales, etc.)
The cost of living for someone 65+
The access to, quality of, and cost of healthcare
The weather in each state
Poverty and crime rates
Kiplinger's study looked at the populations of people 65 and older in each state. Their study showed that 14.5% of the US population is 65+. So they look for higher or lower national averages in each state. For example, 19.% of the population of Florida is older than 65.
The 4 worst states to retire to
Three or four states stick out as the worst in multiple studies: New Mexico, Illinois, New York, and California. Here's why:
New Mexico: The elevation is high, which can be hard for some people to acclimate to. Secondly, healthcare is expensive and limited. They have high poverty and crime rates. The sales tax is higher than the national average and the cost of living is high. And everything under the sun is taxed—pensions, social security, etc. Their summers are hot.
Illinois: The population of Illinois has been steadily declining. Why? Because taxes are out of control. They have some of the highest property taxes in the country. A WalletHub study shows that Illinois residents pay 40% more state and local taxes than the national average! Crime is also high compared to other states. The cost of living and costs for healthcare are high. Illinois has estate taxes at the state level (some estates are exempt). This is often referred to as the "death tax." Illinois has a very cold winter.
New York: New York also has high a state income tax and implements estate taxes at the state level. It gets cold in New York during the winter. In the MoneyWise survey "The Worst States for Retirement in 2021," New York has the highest cancer rates in the entire nation. Housing will continue to be incredibly expensive. Crime rates are also high.
California: California has some of the highest state income tax rates, a high cost of living, and a high cost for healthcare. Their population has been steadily declining because of this. Crime rates are also high. This is the only state that has a mild winter.
Oregon and Alaska don't fall far behind these four states.
The 5 best states to retire to
Each study ranks the states differently—some even rank them by the percentage of the population that was 65+.
Hawaii: Kiplinger rated Hawaii as the second-best state to retire to. The weather doesn't get any better! But in my opinion, the cost of living tops the charts and makes it an unreasonable place to retire to. The property tax is below average but they also have an estate tax that most states don't have. Housing is also incredibly expensive.
Florida: 20% of the population of Florida is older than 65. Plus, they don't have a state income tax. There is great access to healthcare—and it's affordable. The cost of living can be low, depending on where you live. It's no wonder that Florida is a popular place to retire.
New Hampshire: New Hampshire tops the list at #1 (according to Forbes). 19% of its population is 65 or older. The poverty rate is only 7.3%. It's a tax-friendly state that doesn't impose state tax on retirement income. But New Hampshire has cold winters, which is why many people in the Northeast are snowbirds and "fly south" for the winter.
South Dakota: Kiplinger has South Dakota as #1 on their list because the state doesn't impose a state income tax. The cost of living is 4% below the national average. It's the most tax-friendly state for retirees. But would tax-friendliness be the #1 factor? Weather, low crime, and low cost of living might rank ahead.
Texas: Texas—like Florida—doesn't have state income tax, has favorable weather and access to healthcare is quite good.
Other honorable mentions include Wyoming, Utah, Colorado, Virginia, and West Virginia (safe, reasonable cost of living, low poverty rates, and tax-friendly). My last mention is Arizona. A lot of people retire there. But the cost of living, housing, and taxes are all above the national average.
If you're interested in retiring to one of these states, spend some time there during the winters—and consult a financial planner to make sure it's the right move for you!
Resources & People Mentioned
Connect With Gregg Gonzalez
Subscribe to Retirement Made Easy