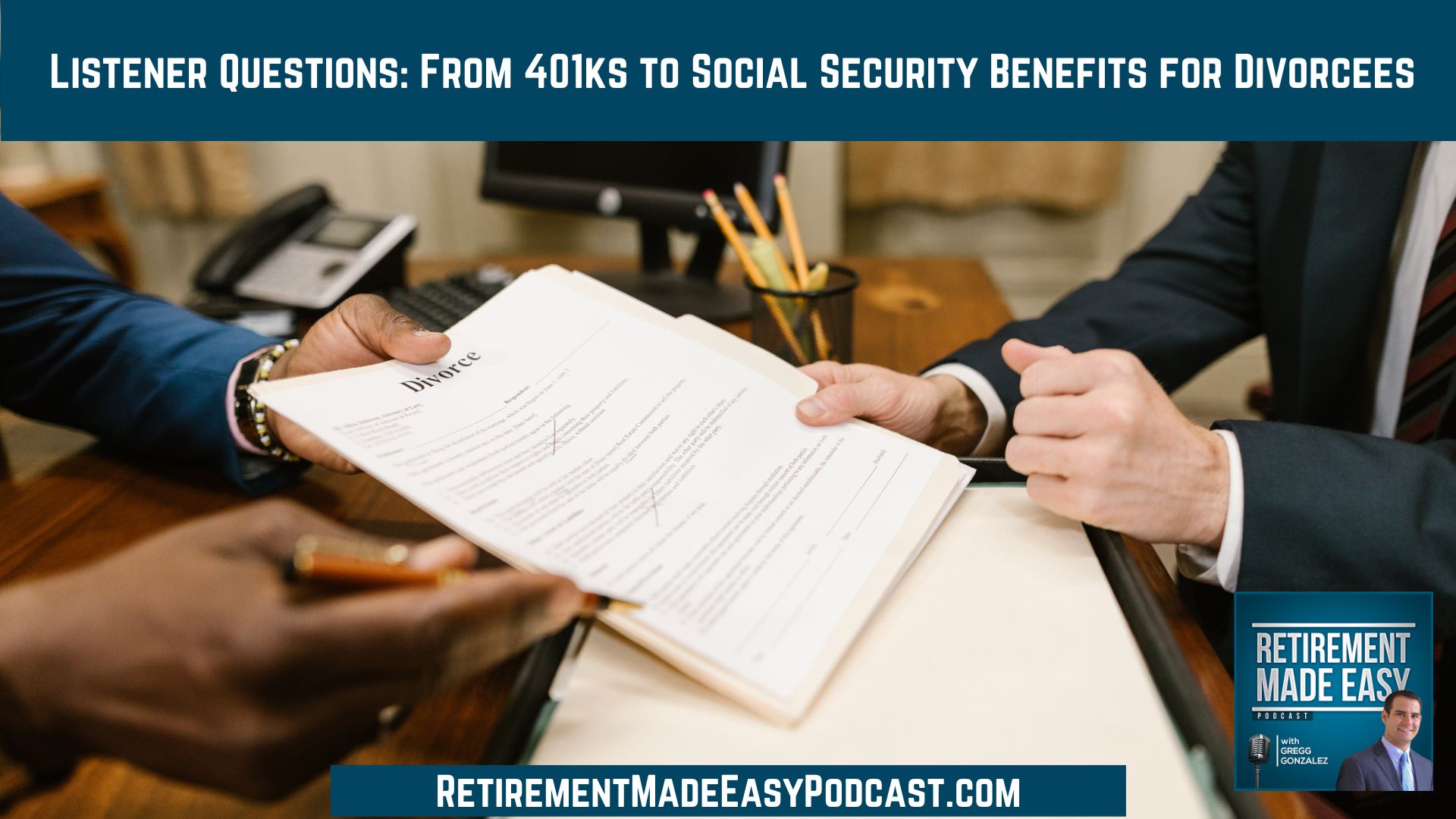 The listener questions have been rolling in so I decided it was time to do another listener Q&A edition of the Retirement Made Easy podcast! In this episode, I cover everything from investing your 401k to health insurance, and capital gains tax to social security spousal benefits for divorcees. Don't miss this informative episode—I just might answer questions that have been circling in your mind!
You will want to hear this episode if you are interested in…
[3:55] Listener Question #1: Why should I invest my 401k?
[9:45] Listener Question #2: How does the match on a 401k work?
[11:40] Listener Question #3: What are the options for health insurance?
[14:49] Listener Question #4: How does capital gains tax work?
[19:25] Listener Question #5: How does the spousal benefit work for divorcees?
Why should I invest my 401k?
If you have $1 million in your 401k and follow the 4% rule (withdrawing 4% every year) the money will last approximately 25 years with no growth. One particular listener asked why he should invest the money if it will last him 25 years. My first thought? What happens if you live more than 25 years?
In episode #6 of the Retirement Made Easy podcast, I share that the average age of the American retiree is 62 years old. The average woman lives 30 more years once they retire. If you don't invest that $1 million, you'll be out of money for the last five years of your retirement!
Secondly, every year, everything you buy will cost more. Inflation averages 3% per year. As your expenses rise and you're only withdrawing 4%, you'll have to continue to cut your budget—or take out more money. The goal of a successful retirement is to live out your days comfortably. I don't think you can if you're not investing your $1 million.
What are the options for health insurance if you retire early?
Health insurance is the #1 reason people delay retirement. If you want to retire early, you can jump on COBRA until full retirement age—but it's expensive. The plus side is that COBRA can cover dependents for up to 36 months. The second option is private insurance, but this will also be expensive—anywhere from $800 to $1,500 per person. The final option is Obamacare, or the healthcare exchange, but it is income-based. You have to weigh your options until you become eligible for Medicare at age 65.
How does the spousal benefit work for divorcees?
I spoke with a listener who asked how the spousal benefit works for divorcees. This listener had been married to her ex-husband for 8 years and never remarried after they divorced. She had asked for a copy of his social security statement since she believed she was eligible to receive a portion of his social security benefits. She was frustrated with his lack of response.
What she didn't realize is that she would have had to have been married for 10 years or longer to be eligible for this benefit. Secondly, her benefits based on her own work history would have to be less than the spousal benefit.
Mickey Rooney was married 8 times but only married to one of his wives for more than 10 years. Seven of the eight wives were not eligible for the survivor benefit. Johnny Carson was married four times, and all four were for longer than 10 years—so all of his exes would be eligible.
Don't fear if you can't get a hold of your ex. With some basic information, the social security administration can help determine the spousal benefit. Your ex-spouse isn't even informed that you're using the benefit.
Resources & People Mentioned
Connect With Gregg Gonzalez
Subscribe to Retirement Made Easy