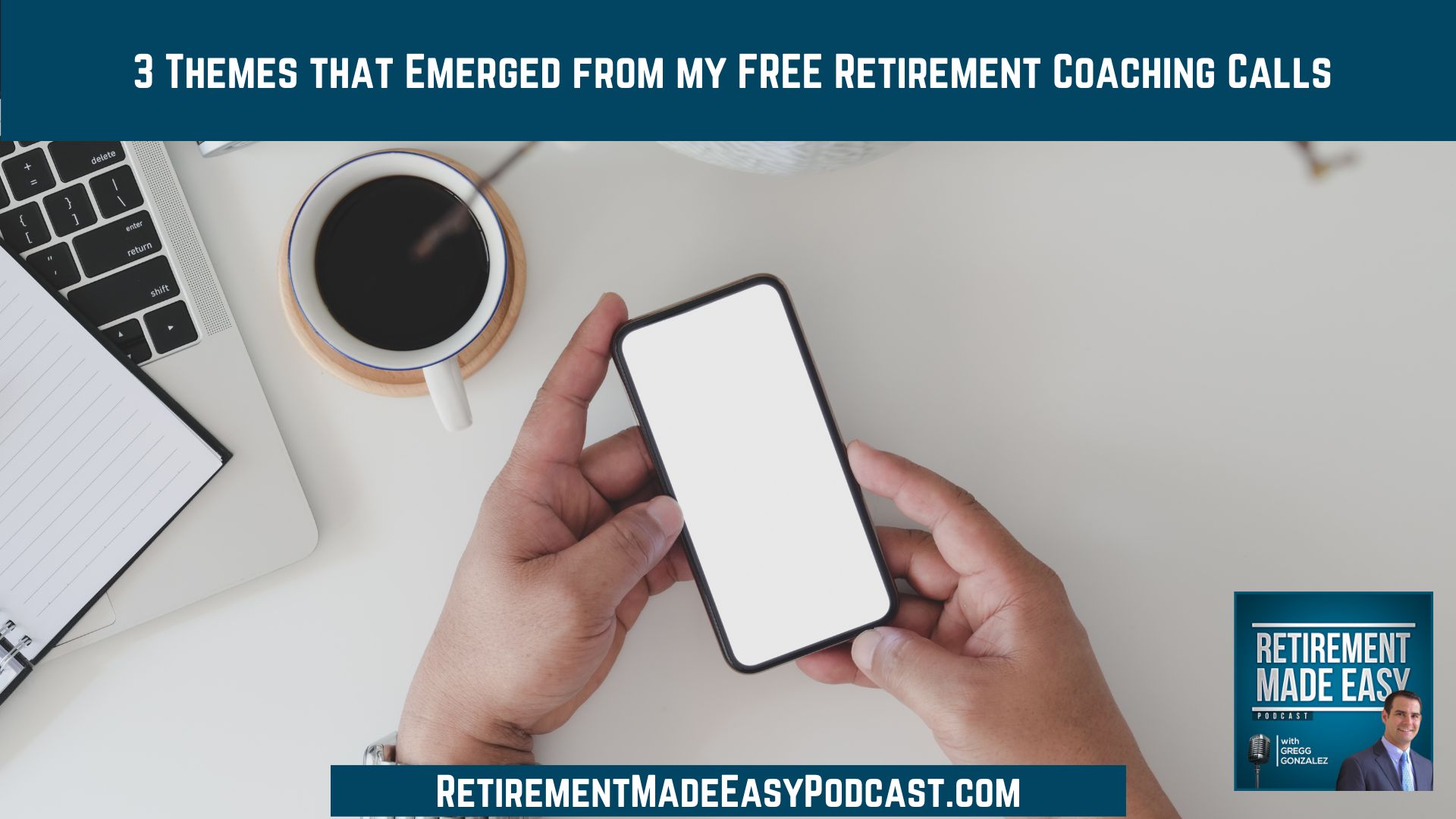 I've been offering free 30-minute retirement coaching sessions this year and recently, three themes have emerged in these conversations:
Whether or not you should keep life insurance once you retire
Struggling with losses in your retirement portfolio
Legacy planning and beneficiary planning
So in this episode of Retirement Made Easy, I'll cover each of these topics and how you can decide what to do.
You will want to hear this episode if you are interested in…
[1:27] How Davis Love III became one of the best golfers
[3:31] Three main themes in recent retirement coaching calls
[4:52] Submit questions at RetirementMadeEasyPodcast.com!
[5:25] Theme #1: Should you keep life insurance once you retire?
[10:18] Theme #2: Are you sick of losing money in your portfolio?
[16:26] Theme #3: Do you have beneficiary/legacy planning sorted out?
Theme #1: Should you keep life insurance once you retire?
When you don't have income, does it make sense to keep life insurance in place? The truth is that there's no one-size-fits-all answer. I recommend that some people keep their life insurance intact for the first few years of retirement. For others, I recommend they keep life insurance for the rest of their life.
You need to determine if a need is still present. Is there still the risk of the premature death of a spouse? When someone is working, we're trying to ensure their income. If the husband makes $100,000 a year, you want life insurance in place so that if he passes, his wife can continue to pay bills. It would be a tax-free death benefit.
When else would you still want life insurance when you retire? Listen to learn more!
Theme #2: Are you sick of losing money in your portfolio?
It's been a brutal year with investments in the stock market and fixed-income investments (due to rising interest rates). It can be scary to see your portfolio decline 10–20%. People are looking for safety, especially those closer to retirement.
My advice? Check your appetite for risk. Many people have been taking more risks than they are comfortable with. If you're one of those people, you might want to consider making some adjustments to your portfolio. You can put more money into more conservative investments.
But if you're going to be an investor, you should be in it for the long haul. The average woman is projected to live until age 92. You're planning for 30 years of retirement, which is how long your money should be invested. It needs to work for you.
Theme #3: Do you have beneficiary/legacy planning sorted out?
I've had two conversations about beneficiary planning recently. The first conversation was with a couple, both in their second marriages. The wife had a son from a previous marriage and a daughter with her current husband. Her current husband didn't have other children.
This couple wanted to leave their daughter more money because she only had two parents, whereas the son had a biological dad and a stepdad. They thought he'd inherit double the money.
But how do they know the biological father has his estate planning in order? How do they know how much his net worth is? He could name anyone as his beneficiary, including the stepmom.
The heart of the matter? Their son was bad with money. The truth was they wanted to leave the daughter more because she was responsible and would make wise decisions with the money. Asking deep questions allowed us to get to the root of the matter and what they really wanted.
Listen to the whole episode to learn more about legacy planning and how to make wise decisions about your retirement!
Resources & People Mentioned
Connect With Gregg Gonzalez
Subscribe to Retirement Made Easy